"Life is meant for beauty and abundance, and Katy is a city that you will find both!"
Did you know?
Katy sits on the perimeter of the amazing Energy Corridor! This forward thinking, leading-edge, urban designed community is home to several of the largest international energy companies in the world as well as 300 multinational, national and local companies. It employs a well-educated workforce of more than 94,000 employees.
Big plans for Katy schools! Katy opened 3 new schools in 2017 including Paetow High School in Northwest Katy. Katy plans to open 6 more by 2021, including Cross Creek Ranch High School, two Junior High School, and 3 Elementary schools (see below).
Katy leads the pack in population growth with zip codes 77494 and 77449 taking the leading spots in the nation. Overall, the city of Katy added 17,000 people between 2016 and 2017.
The Grand Parkway Park and Ride is awesome! Situated at Grand Parkway and I-10, this Park and Ride offers Katy residents a timely and efficient services to Downtown Houston at a low fare of $4.50 each way.
The Katy Area Economic and Development Council was founded in 2003. It is a full-service private, non-profit, economic development organization which facilitates growth for Katy businesses.
Please take a look at this map highlighting some of the most coveted neighborhoods in Katy!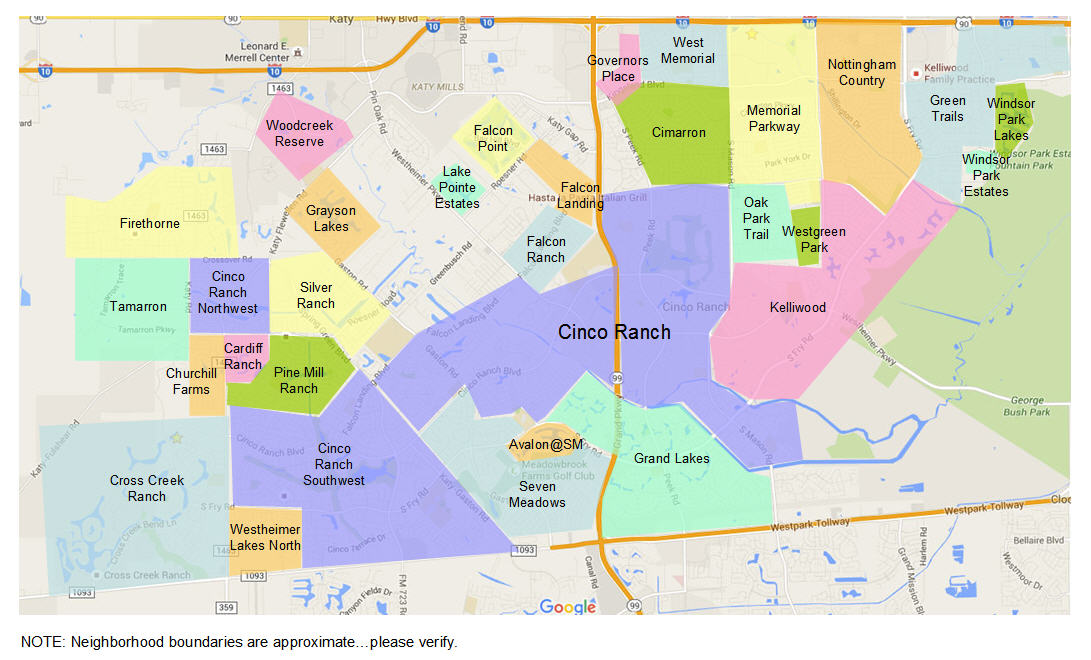 Where is the fun happening in Katy?
Texas Typhoon – Bringing back the Tidal Wave Pool from the good old days of Water World! This park offers a Lazy River, Slide Boarding, super fast slides, and a kiddie play area. Rent a Cabana for the day and enjoy loungers with pillow cushions, ceiling fans, table, bar stools and full wait service!
Mason Creek Hike & Bike – Nice water and wetlands make theis serene park a perfect little getaway for the family! This park ofeatures new playground equipment for the kids as well lots of duckies!
Top Golf
Local Farmers Market – Located on Grand Parkway and Highland Knolls and open every Saturday from 8:00-12:00 pm. Local, farm fresh & homemade goods available!
Time Square Entertainment
Exploration Park
Blessington Farms
Dewberry Farms
Katy Mills Mall
La Centerra Shopping Center